—>RESCHEDULED – Because the available date wasn't very popular, we are rescheduling this event to the second week half of June – date to follow at the end of May/beginning of June!
When: the second half of June 2021
Where: Online via Zoom
If you love and miss authentic Mexican food, here's your chance to learn how to make a very popular dish yourself!
Member Ari Villiers and her husband Dennis will be demonstrating how to make Quesadillas de queso with salsa roja (Cheese quesadillas with red salsa) on the long holiday weekend in May. She will even be showing us how to make corn tortillas from scratch – no special tools needed!
If you would like to cook along with Ari and end up with a delicious lunch at the end of the approximately two-hour workshop, you will need to gather the following ingredients, some of which will require a trip to the specialty shop or an online order: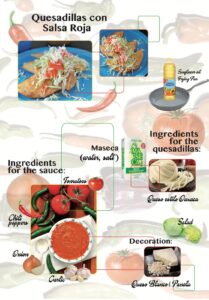 For the tortillas:
water
salt
Masa Harina – the most popular brand of this special flour is called "Maseca" which you can get online or at the Latino Feinkost shop in Stuttgart. Note: This is not the same as corn flour or Maismehl and she does not recommend any substitution for this ingredient.
For the sauce:
tomatoes
chili peppers
onions
garlic
For the quesadillas:
iceberg or other green lettuce
Queso Estilo Oaxaca – a cheese available at the Latino store, can substitute shredded mozzarella in a pinch
Queso Blanco Panela – also available at the Latino store, can substitute feta
You will also need vegetable oil and a frying pan.
To RSVP for this event and to receive the Zoom link, either sign up in the private Facebook event or use the contact form below. Members of your household are welcome to join in and help out!