STUTTGART GHOST WALK (ENGLISH LANGUAGE)
Friday, 3rd November at 19:00 (1.5 hours)
Meeting point: Beneath the statue "Stuttgardia" at the Rathaus (Town Hall) in the Hirschstrasse, corner Marktplatz
Nearest Stations: Rathaus, Rotebühlplatz
This event is for IWCS members and their +1 guests, limit 25 total
RSVP using the form at the end of this post or via the pending Facebook event
The exciting nighttime walking tour will lead us from the Old Palace, through the Market Hall, to the Collegiate Church and will delve into eerie encounters with spooky monks, a headless horseman, and two shadowy figures…who some say still can be seen at dawn. You will also learn about the chequered history of a former monastery, why there are tram tracks in the market hall, where decapitations took place, which customs prevailed in old times in cemeteries – and much more.
Please note that this is an easy walk around Stuttgart, which means it is wheelchair and pram friendly. We will end up near the Leonhardskirche at the edge of the Bohnenviertal. More information can be found at the Stuttgart Geister website.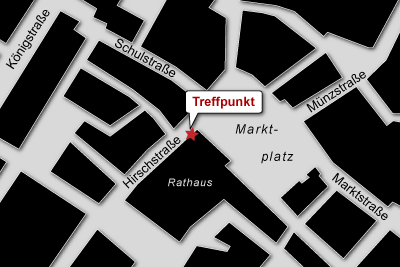 This is a +1 event, which means:
Any IWCS member plus one guest are welcome to attend.
Your +1 can be a partner, spouse, child, or friend.
You and your guest each pay the member cost listed below.
The cost of this event is €5 per person, paid in advance. The International Women's Club Stuttgart will be subsidizing the remainder of the fees for the tour. Children under 6 are free.
To reserve your spot, please RSVP in the pending Facebook event or use the form below if you are not on Facebook. To confirm your reservation, please transfer the €5 per person to the IWCS bank account no later than Monday 23rd of October. If you have any extenuating circumstances that keep you from getting the funds to us by that date, please speak directly with the host so we don't assume you are no longer interested.
Please note that this event is limited to 25 participants and has a minimum number of 10 for the event to go ahead.
Prepayments are non-refundable after the payment deadline. Members who have to cancel at the last minute are welcome to find another member or guest to send in their place.
[contact-form to="activities@iwcstuttgart.org"][contact-field label="Name" type="name" required="1″ /][contact-field label="Email" type="email" required="1″ /][contact-field label="Comment" type="textarea" required="1″ /][contact-field label="Will you be bringing a guest?" type="radio" options="Yes,No" required="1″ /][/contact-form]